Mrkla Strka: Vela Luka Night Trail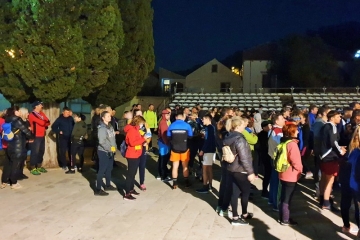 On the day 21st of March 2019. Mrkla Strka was held, the first night race in Vela Luka. On full moon nights, over 140 runners and walkers, the track went 7 km long. This is how the first day of spring has passed, but it is also marked the Day of Children with Down Syndrome. The race started in front of the parish church of Saint Josip (Joseph) when the bell tower hit at 20:00 h, and in his length went past five churches. The final goal was the church of Saint Ivan (John) on Glavica in Gradina bay. The fastest ones have come in less than half an hour, and the last few in less than an hour and a half. Except for the fastest, the award was also received by the last person to reach, since it is still a message that it is important to participate. The attendance of the participants and the volunteers who made the race was continued at Glavica with music, warm tea and fruit.
Excellent organization Vela Luka Outdoors, HDP Mareta, TZ Vela Luka, special medals made by members of Association Cvitić (associations of children with special needs) and others; perfect atmosphere full moon night, starry sky, smell of sea, very good trim along the sea; it is certainly recommended that we see the following years in even more numbers!
Otherwise, this is not the only race held in Vela Luka. The first bigger was organized in 2014, which has now become the traditional Vela Strka in September for runners and cyclists. From June 2018, Luška strka is also held in the summer.
Image gallery:
Blog - Back to all